Opening
Hours
Monday

Closed Today

Tuesday

Closed Today

Wednesday

Closed Today

Thursday

Closed Today

Friday

Closed Today

Saturday

Closed Today

Sunday

Closed Today
Monday: -
Tuesday: -
Wednesday: -
Thursday: -
Friday: -
Saturday: -
Sunday: -
ON
SALE

NOW

…

THE

BLACK

DEATH

:ZOMBIE

EXPERIENCE
The 5-night zombie scare will run between Saturday 28th September to Thursday 31st October and is to be held after hours on the Merrion Centre's shopping mall.
The 60 minute immersive experience will see groups of up to 20 explore, sneak and scream their way through zombie hordes, navigate puzzles and ultimately survive the 'Black Death infected'; plunging visitors into their very own zombie blockbuster with live actors, sets and industry leading special effects.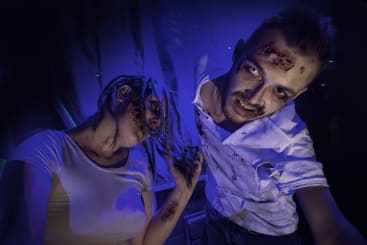 For full details and to book click bdze.co.uk or visit The Black Death: Zombie Experience booking office on the Merrion Centre main mall from 18th September – that's if you dare!
Whilst The Black Death: Zombie Experience is designed for ages 18+ only, guests of ages 14+ will be permitted entry when accompanied by an adult at their discretion. For full terms and conditions please contact the organiser.