Opening
Hours
Monday

11.30am – 08.30pm
Closed Today
Open 24 Hours

Tuesday

11.30am – 08.30pm
Closed Today
Open 24 Hours

Wednesday

11.30am – 08.30pm
Closed Today
Open 24 Hours

Thursday

11.30am – 08.30pm
Closed Today
Open 24 Hours

Friday

11.30am – 08.30pm
Closed Today
Open 24 Hours

Saturday

11.30am – 08.30pm
Closed Today
Open 24 Hours

Sunday

Closed Today
Open 24 Hours
Monday: -
Tuesday: -
Wednesday: -
Thursday: -
Friday: -
Saturday: -
Sunday: -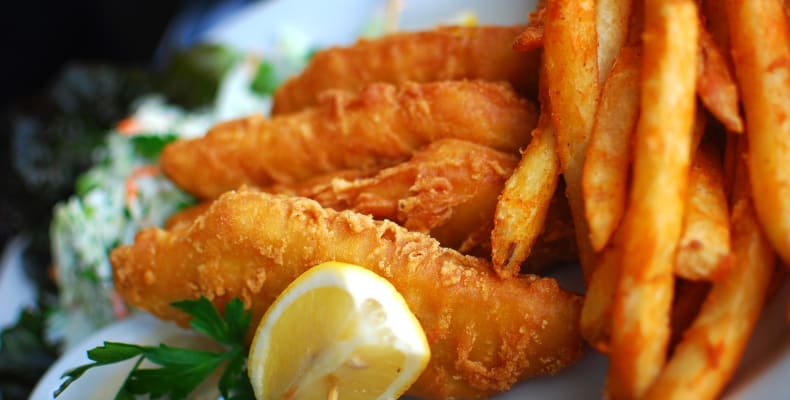 DESCRIBE HOOK & LINE:
New and contemporary fish and chip shop
WHERE IS IT LOCATED:
Located on Merrion Way opposite First Direct Arena.
FIVE REASONS WHY TO GO TO HOOK & LINE:
1. Hook & Line offer traditional chip shop fare of haddock and chips with all the trimmings
2. They also offer a modern menu of squid, crab cakes and tempura prawns as well as a number of vegetarian options
3. In addition to the main menu, the team also serve ever changing "specials" to ensure they're offering new and exciting options to customers.
4. fresh food at great prices.
5. In addition to the opening times highlighted above, Hook & Line also open around First Direct Arena events including weekends
TOP RECCOMENDATIONS FROM THE MENU:
- Traditional fish & chips
- Crab Cakes
- Battered Halloumi